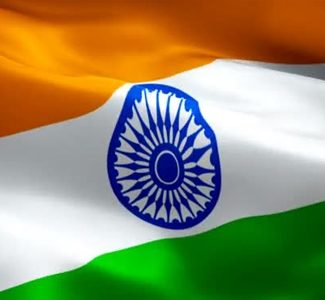 The significance of the Indian Flag
The National Flag of India is a horizontal rectangular tricolour of saffron, white and green; with the Ashoka Chakra, a 24-spoke wheel, in navy blue at its centre. It was adopted in its present form on the 22nd July 1947, after India became independent from Great Britain.
Each of the three colours (Tricolor) has a special meaning:
Saffron represents courage, sacrifice and the spirit of renunciation
White represents peace, unity and truth. To guide our conduct
Green Represents faith and fertility It shows our relation to (the) soil, our relation to the plant life here, on which all other life depends.
The Chakra represents the continuing progress of the nation and the importance of justice in life. This is the Ashoka (Dharma) Chak-ra (or "Wheel of Law")
The 'Blue' Wheel represents the continuity of the nation's progress which is deemed to be as boundless as the blue sky and as fathomless as the deep blue sea that keeps its hands and feet washed.