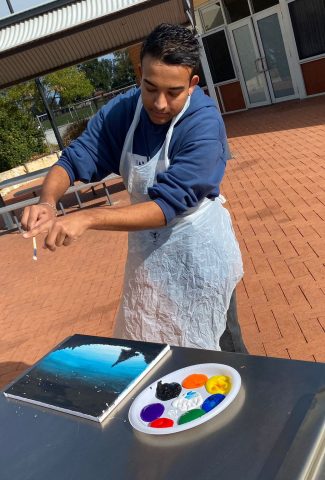 Youth Wing successfully hosted our very first wellness painting studio!
As a part of our wellness activities, Youth Wing are encouraging new ways to destress and take care of our mental health, which is why we decided to host a Painting Workshop.
Having good mental health is essential to us because it is what helps us get through stresses in our lives, whether they be small stresses or large ones. Everyone's stress in different and everyone's way of coping is different. There are healthy ways of coping and unhealthy ways of coping. Binge eating, staying in bed all day, avoiding the task, drugs, alcohol among others are all unhealthy ways to cope with stress in our lives. Better alternatives are exercising, deep breathing, journaling and engaging in activities that relax your mind. Some of these activities include painting, which is how the idea of a Paining Workshop started.
Thanks to everyone who came along and created wonderful art with us. Stay tuned for more wellness activities in the future!