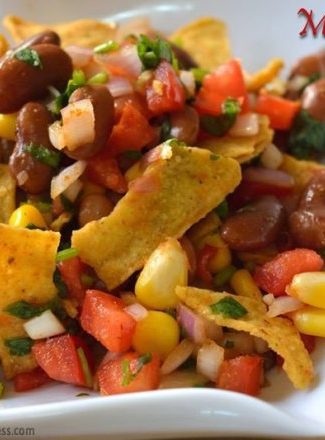 Ingredients
Bhel
10 Black beans cans
15 Potatoes boiled peeled and finely diced
5 Bell pepper finely diced – Green/Yellow
10 Sweet corn tins
5 Coriander Bunch
Salsa
5 cans crushed tomatoes 
3 cans red kidney beans 
2 can sweetcorn
2 Red Peppers
3 Green peppers
0.5kg fresh tomatoes
250gms red onions
5 packets of of taco mix
Method
For Salsa
Add oil to a pan 
Cook the onions for a bit then add peppers
Once they are part cooked add the rest of the ingredients the corn, kidney beans and tomatoes.
Let these cook on low heat till the sauce starts thickening a bit then add the taco mix to taste let it simmer for 5 mins and your salsa is ready to serve.
For Bean Mixture
Add a bit of oil in a pan and cook the peppers, beans and corn add a bit of chilli powder and salt to taste

Assembling
Spread lettuce in the bowl, add the bean mix , potatoes,  some tortilla chips, cheese and add salsa as required. You can also add sour cream on top.