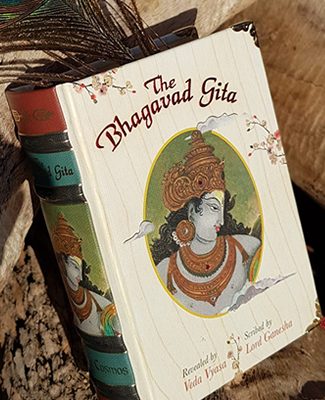 " yas tv ātma-ratir eva syād ātma-tṛptaś ca mānavaḥ ātmany eva ca santuṣṭas tasya kāryaḿ na vidyate "
Translation of Bhagavad Gita 3.17
But for one who takes pleasure in the self, whose human life is one of self-realization, and who is satisfied in the self only, fully satiated—for him there is no duty.
"The message is that for a person who has understood the creator, has faith in him will naturally know himself, the created …. This consciousness reveals the true relationship between the self and the creator of life. Such an individual attains self- relisation and self-confidence …….. Where duty or work becomes a routine affair.. difficulties vanish, toughness of work softens.
A story highlighting confidence:
A man was selling parrots at a railway station. He had three of them in separate cages. He approached a group of passengers. One of them enquired about the cost of parrots. The parrot seller explained that:
The first parrot knew two languages, could translate and answer encyclopedic enquires besides possessing remarkable ability to solve mathematical equations.
"This parrot costs Rs 2000.00. The second parrot knows three languages, can read and convey the master's thoughts to other people, besides having the abilities of the first parrot. This parrot would therefore cost Rs 5000.00" the seller explained.
"what about the third parrot" the potential buyer queried
"Oh this one? He will cost you a little more – Rs 10, 000 "
"Why? What is so special about him?"
He knows nothing – just nothing. He only has confidence and the other two parrots call him 'BOSS'."
A simplistic story to convey an important message! The sterling value of self-confidence couldn't be highlighted better.
This story is taken from 'Lead to Succeed- Success Secrets from the Bhagvad Gita' by Karan Kharb