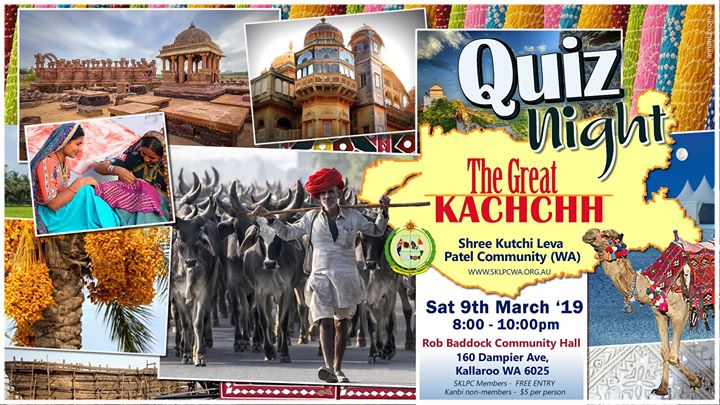 The Great Kachchh (Kutch) – Quiz Night
The Great Kutch (Kachchh) Quiz Night
SAT 9th March 2019
Time: 8:00 – 10:00pm (Participants to be seated by 7:50pm)
Venue: Rob Baddock Community Hall, 160 Dampier Ave, Kallaroo WA 6025
How well do you know Kutch? Or about Indian culture in general?
How many know the dialogue -'Mogambo Khush hua' is from what movie?
Lets find out on 9th March… Join us for a Family Fun Quiz night after the SKLPC AGM.
BONUS POINTS will be given for the best Kutchi dressed team.
We encourage mixture of teams including Seniors 50+ to leverage breadth to advantage.
Form a team of 10, or Join a team on the day (On availability)
ONLY 12 Teams can participate.
TO REGISTER YOUR TEAM
https://tinyurl.com/KutchQuiz
Please note this a MEMBERS ONLY quiz!
Non Members entry is $5 per person.